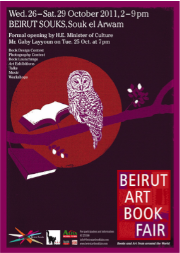 Beirut Art Book Fair 3rd Edition, 2011

The Fair took place from 25-29 October 2011 at the Venue in Beirut Souks.
The Festival of Lebanese Art Books became part of Beirut Art Book Fair 2011 as it was a growing internationally to include art books and related art work from beyond Lebanons's borders. Remarkable features of this fair was the Art Exhibition of artists from Lebanon and abroad in individual spaces and a Book Design Prize for the best designed book. There was again the Event Photography Contest where amateur photographers were invited to shoot photos at the opening ceremony. The best photographs were exhibited at the fair. The closing ceremony witnessed the awarding of prizes for the best designed book and the best photographs of the Event Photography Contest in the Art Cafe at the center of the exhibition hall, which was also the venue for book signings, projections and artists' talks during the days of the fair.
The Fair took place from Tue. 25 – Sat. 29 October, 2011 at the VENUE in Beirut Souks (Souk el Arwam, Bab Idriss)