Impressions of Beirut Art Book Fair 2013,
which took place from May 8 - 11.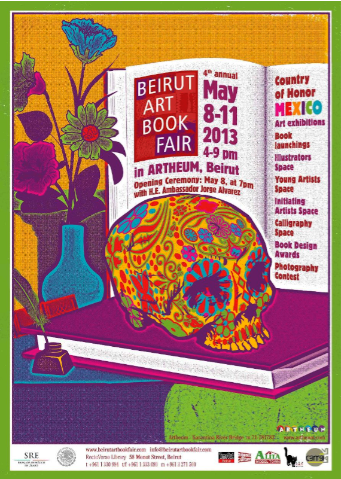 BEIRUT ART BOOK FAIR – 4
topped the previous fairs with its rich and varied cultural program. Having Mexico as the country of honor made it undoubtedly even more peppy. The passionate talk on Art in Mexico by H.E. Ambassador Jorge Alvarez on the last day of the fair was an unforgettable event.
From the festive opening ceremony with Maria Mattar, the performance of ANTI_GONE choreographed by Cornelia Krafft, the Hip Hop by Faez Sultan, to the workshops in calligraphy and young talents, every day was filled...
Visitors admired the colorful setup of the Fair and the exhibition by hyperrealist Mexican painter Ramadam Kareem impressed everyone.


Please click here for some photographic impressions.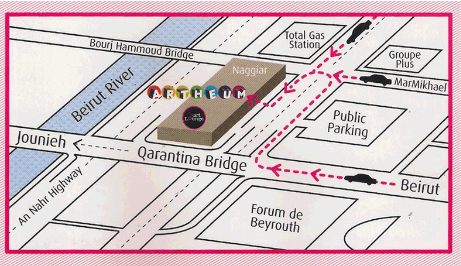 BEIRUT ART BOOK FAIR at the ARTHEUM in BEIRUT


For more information contact us at:
info@beirutartbookfair.com
t +961 1330 994 t/f +961 1333 090

m +961 3271500 m +961 3197900

Click here to Visit:
Artheum website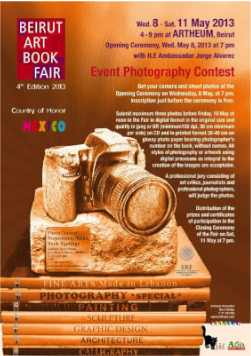 Get your camera and shoot photos at the Opening Ceremony on Wednesday, 8 May, at 7 pm.
Inscription just before the ceremony is free.
Submit maximum three photos before Friday, 10 May at noon in the Fair in digital format in the original size and quality in jpeg or tiff (minimum180 dpi,30 cm minimum per side) on CD and in printed format 30-40 cm on glossy photo paper bearing photographer's number on the back, without names. All styles of photography or artwork using digital processes as integral to the creation of the images are acceptable.
A professional jury consisting of art critics, journalists and professional photographers, will judge the photos.
Distribution of prizes and certificates of participation in the closing ceremony of the Fair on Saturday, 11 May at 7pm.
For more detailed informatation on how to participate at the
BEIRUT ART BOOK FAIR - 2013,
pls click here.
Or contact us at:
info@beirutartbookfair.com
RectoVerso Library, 58 Monot Street
t +961 1330 994 t/f +961 1333 090
m +961 3271500 m +961 3197900